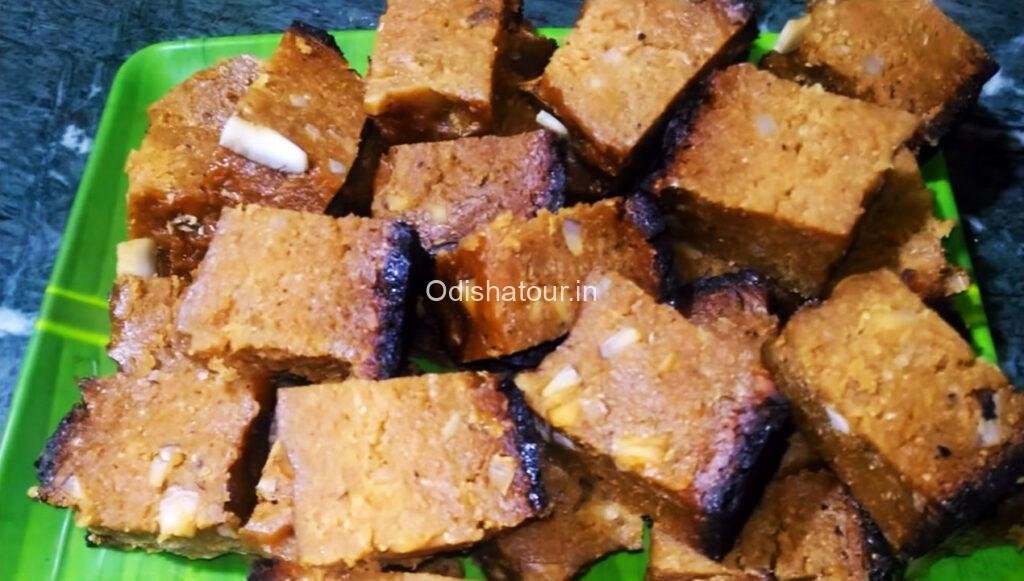 Components
Rice- 500 gms
Jaggery or Sugar- 250gms
Grated coconut- 1 cup
Finely chopped coconut- 1/2 cup
Ghee-2-3 tbsp
Dry fruits like Cashew Nuts, Almond, and Raisins – 3-4 tbs
Peppercorn powder – 1/2 tsp
Cardamom, cinnamon- 1 tsp
Cloves and nutmeg powder Finely chopped ginger- 1 tsp
Salt- 1/2 tsp
Baking powder (optional)- 1/2 tsp
Thick milk (optional)- 250ml
The formula of Poda Pitha
Wash and soak the rice for 2-3 hours. Grind to a coarse paste. In a pan mix the rice paste, Jaggery or Sugar, milk, 2 cups of water and salt. Stir on moderate heat till the batter thickens. Constant stirring on low or medium heat is required to avoid the formation of lumps. Remove from fire when the batter forms the consistency of soft dough. When tolerably cool, knead well and mix the remaining ingredients.
Grease a cake tin and pour the batter in 3-4″ thickness leaving space for the Pitha to rise. Sprinkle some ghee on top and bake in a moderately hot oven for 40 to 45 minutes. When the top becomes brown stick comes out clean, which indicates that, is cooked. Cool and turn on a plate.
It can also be microwaved for 8 to 10 minutes and brown the top, and It has to be a grill. A Pressure cooker can also be used to make Podo Pitha. The flavour of Podo Pitha emerges from the traditional method of baking on a charcoal Chulha covered with a banana leaf and a spread of hot embers. The aroma of burnt charcoal and the banana leaf gives.
Variations of Cook
In place of wet ground, Rice paste and Rice powder can be used.
Spread a piece of banana leaf on the base of the baking tin and cover the batter with another piece of leaf. or 1ackfruit lovers, the pulp of ripe jackfruit can be added while thickening the batter Pulp of Ripe palm can also be used
Poda Pitha is Mainly Used for
Poda Pitha is one of the favourite items of Lord Jagannath. The Pitha has prepared during the festival of Raja, which has celebrated in the month of Jyeshta. It is a three-day festival that has been observed to celebrate the fertility of mother Earth. During this period women have the privilege of resting from household chores and being adorned in new clothes and finery, indulging in feasting, merrymaking and swinging. Get Easy Cooking